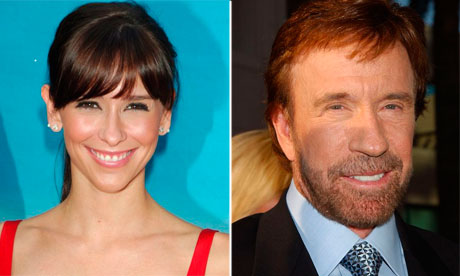 There may be no excuse for appearing in Garfield: A Tale of Two Kitties or Braddock: Missing in Action III, but is this right?
She may have earned a Golden Globe nomination for her TV work last year – and he may have invented a special pair of jeans for kicking people with – but history is already starting to turn against Jennifer Love Hewitt and Chuck Norris. According to Slate's comprehensive new study of Rottentomatoes aggregates, they are rated the worst actress and actor to have worked since 1985.
On the surface, it doesn't look like there's much to disagree with. Jennifer Love Hewitt, for example, has never starred in a film that has received a Rottentomatoes score of over 60%. Instead she's been content to ping backwards and forwards in pieces of dreck as diverse as Sister Act 2: Back in the Habit and Garfield: A Tale of Two Kitties.
And since Chuck Norris is responsible for work like Braddock: Missing in Action III (Tagline: "He's fighting for everyone who can't fight back"), Forest Warrior ("A magical mountain ... A mysterious legend ... A story of courage ... Against all odds!") and Top Dog ("One's tough ... One's smart ... Together they unleash explosive action!") – plus the fact that his IMDb page now ranks lower on Google than websites dedicated to jokes made at his expense – his place at the top of lists like this was always assured.
But look at the study again. Rottentomatoes doesn't score actors on the quality of their performances – it scores entire films. So, for instance, while Daniel Auteuil has been named as the best overall actor of the last 26 years thanks to films like Jean de Florette and Caché, the best American actor emerges as John Ratzenberger.
It's official. With millions of performances from tens of thousands of actors to choose from, it turns out that the most potent and charismatic performer that America has produced over the last two and a half decades is Cliff from Cheers. Is this down to his searing bit-part performance in the 1997 cat-based Doug E Doug vehicle That Darn Cat ("This FBI agent is putting his life on the line. Fortunately, he's got nine")? Or could it be that his score has been artificially boosted because he's managed to score a small role in every movie that Pixar has ever made? Maybe we'll never know for sure.
So perhaps it's not that Love Hewitt and Norris are bad actors at all. Perhaps its just that they're attracted to really terrible films. Love Hewitt in particular has thrived on the small screen, to the extent that she won three consecutive best actress trophies at the Saturn awards for her work on a rubbish show about a spooky detective. And, yes, Norris might have become a punchline for his facial hair and his political beliefs and his cartoon series Chuck Norris: Karate Kommandos. But admit it, there have been times in your life when you would have liked nothing more than to sit down and watch something as ridiculously mindless as Top Dog all the way through. And even if you haven't, Chuck Norris could still beat you in a fistfight, so shut up.
Has this survey got it right? If not, who really are the worst actors and actresses of the last 26 years? Your nominations below, please.